Since its founding in September 1986, Lotte E&C's R&D Center has consistently served important roles in supporting management, developing new technologies, finding new growth engines, cutting costs, and reducing construction time. The R&D Center is the source of company strategy in becoming one of Asia's top-ten construction value creators.
Based on a wealth of experience in construction and project management, Lotte E&C has firmly secured core technologies in building ultra-high-rise structures, long bridges, and high value-added CM/PM projects. In addition, we are opening a new horizon in the construction industry by developing environmentally friendly technologies that make possible low-carbon green growth.

01. Open innovation R&D

Integrates technology networks within and outside the center to create new value

02. R&BD (Business Development)

Develops field-first technology support and sets business-oriented technology agendas for future profits

03. Expanding the value chain

Possesses total solution technologies in construction project planning, facility management, architecture, engineering, and construction

04. Strengthening global technical capabilities

Spreads global-best practices through location-specific employee training and work processes for strong, enterprise-wide core competencies.

Supports enterprise-wide creative management

Paradigm change in creative R&D, Creative R&D process

Beefs up global technological competitiveness

Create a global technical network, Manage knowledge-based global technology information, Investigate global technical trend

Strengthens future growth engines

Enter overseas ultra-high-rise building market, Win soil and groundwater cleaning projects, Do research on application technologies related to renewable energy, Move into markets for overseas big tunnel and bridge construction projects

Cost cutting and construction time reduction

Provide total solutions through the full utilization of technical experts within and outside the company

The R&D Center has established domestic and international networks for core technology information such as ultra-high-rise building technology, environmentally friendly architecture and materials, renewable energy sources, and carbon dioxide-reducing construction technology.
The center is engaged in technology information gathering, future technology trend research, and knowledge-based global technology information management.
External technical cooperation network area

The R&D Center is working to help the company diversity its business areas into environment and technology while establishing a wide-encompassing value chain.

We are also creating optimal architecture through computer simulation in the building information modeling project while taking part in the Smart Highway project that combines civil engineering, environmental science, and information technology.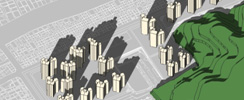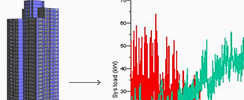 Based on capabilities ranging from initial-stage planning to CM/PM, architecture, engineering, actual construction, and post-construction maintenance, the center is gaining technological expertise and experience.

The center is currently focusing on the planning and selection of R&D projects in response to the changing environment in the global construction industry/market/technology while strengthening soft capabilities in CM/PM areas.
CM/PM
Energy-saving environmental technology
Hoisting planning
Structure design and analysis
Machine systems
IT fusion
Interior environment
High-performance materials technology
Instrumentation technology
Curtain walls
Accident prevention/safety technology
Vibration control technology